District scolaire francophone Sud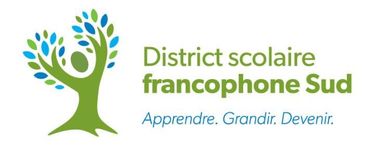 The District scolaire francophone Sud is:
The largest French-language district in New Brunswick
Serving a vast territory in the south-central part of the province
37 schools located in large urban centers and neighboring rural communities
More than 15,500 students, including more than 1,200 newcomers
Some 4,000 permanent and substitute employees
An effervescent school district that continues to grow
An employer who counts on the passion and the commitment of its staff

Ici on change le monde (Here, we change the world) is the District scolaire francophone Sud slogan. It implies that all students and all staff members can realize their full potential. And that they can make a real difference for those close to them, for the community and for humankind. It invites each individual to dare to dream and to strive to do great things.

10 good reasons to choose the DSFS

Francophone children and right-holders (ayants droit) have a right to an education in French. As do allophone and anglophone children who are fluent in the French language.
Our mission is to bring the students to succeed.
Our schools are inclusive. They can respond to the diverse needs of children. They ensure that each child has an equal chance to learn and to grow.
Our teaching has a strong focus on technology and innovation.
Our schools promote French and Acadian identity.
Our students acquire a strong and lasting level of bilingualism.
Our schools are rich in cultural diversity and have a window on the world.
Our schools have community-oriented programs that promote the spirit of entrepreneurship. The students can develop and manage a variety of projects.
Our schools promote the health and well-being of the students.
Our schools provide a learning environment that encourages students to think and to act.

For more information on who can attend a Francophone school in our district, visit the right-holders section of our website (Ayants droit)
If you are a newcomer to Canada and you wish to enroll your child in our district, visit the Élèves immigrants section of our website.
Organization detail
There is no configuration for this page.